A workshop request can be created on a stock record by :
1. Clicking on the "Workshop Order" button on the stock record
2. Raising a Sales Order
3. Selecting the "Create Workshop Job" when accepting a vehicle into stock.
This will display the workshop request dialog box -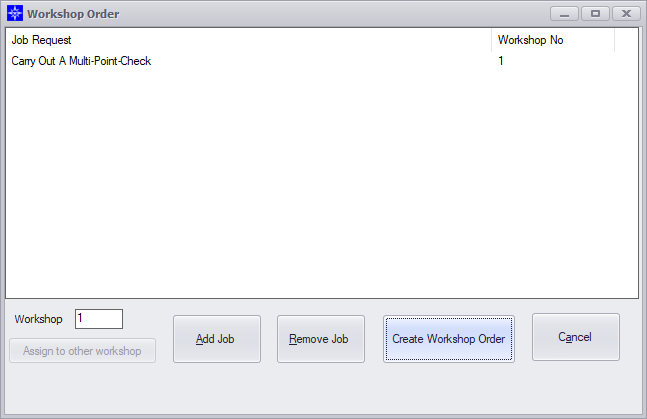 By default the Job requests will contain the following -
1. Carry out a Multi-Point Check - if one has not been requested already
2. To fit any dealer accessories which have not already been requested
3. Any work required added onto the vehicle on the PDI/Prep tab
The workshop that the request will be made to is the default for the sales department and can be updated if needed.
Extra job requests can be added by clicking the "Add Job" button
Existing request lines can be removed by selecting and clicking on "Remove Job"
Multiple requests can be made on different workshops by highlighting a request line and clicking on "Assign to other workshop" - this will remove this line from the screen so that this workshop order can be created without it, but then a new workshop request screen will be displayed with these items on.