The customer record now has a new series of "tick" boxes to allow selection of customer contact preferences. A core change under GDPR is that the customer should no longer be opted into Marketing communications unless they opt-out but be assumed to not be included in marketing campaigns unless they have specifically opted in for communication.
Furthermore, the customer requires the ability to be able to select how they are contacted and what sort of messages they can receive.
In order to achieve this, when creating a customer record a pop up box asking specifically for the customer contact preferences is displayed. Complying with GDPR, all the tick-boxes are unticked by default and the user is required to select the marketing preferences in consultation with the customer. The tick boxes display is as follows :-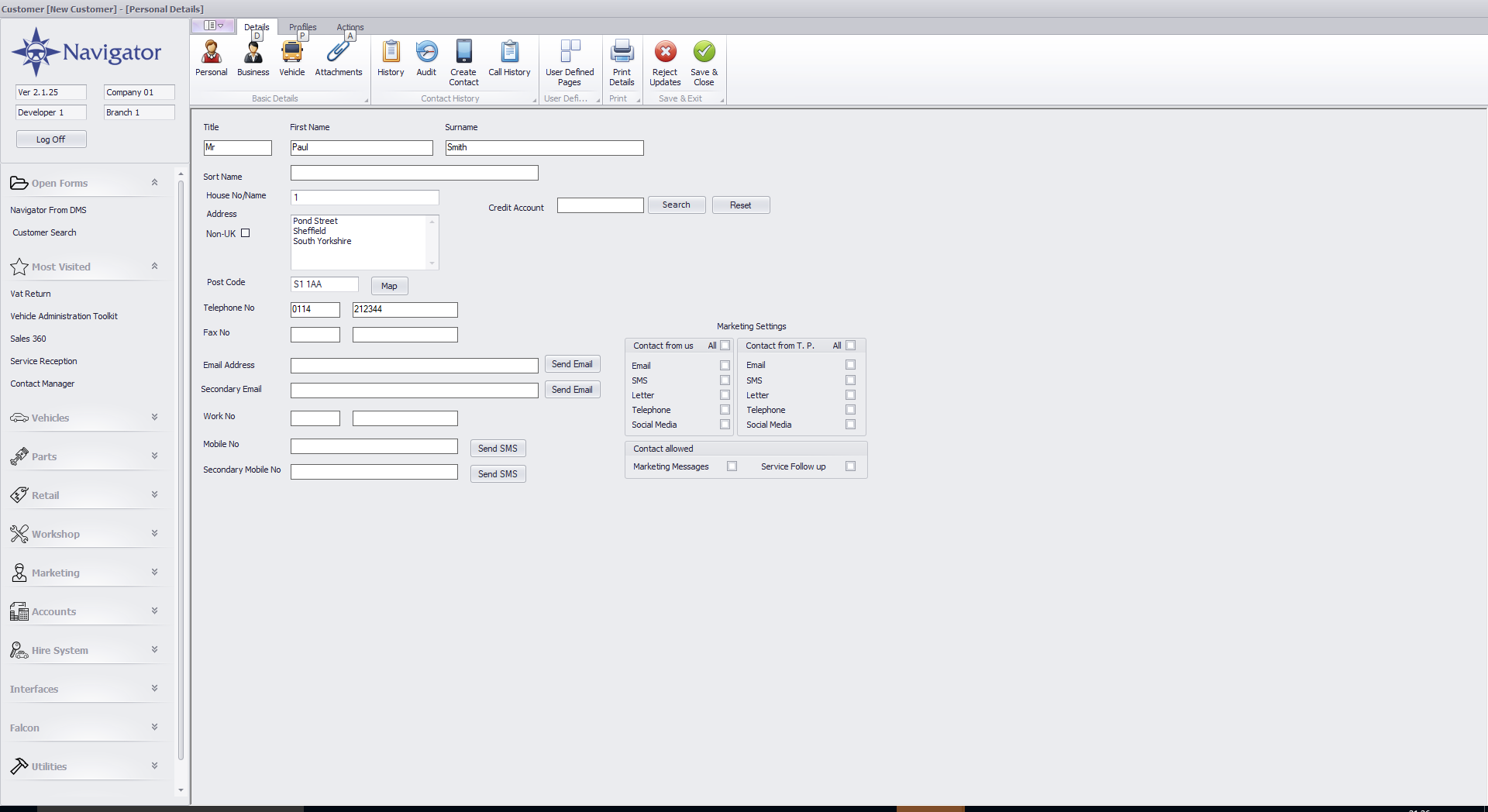 These settings are shown on the customer record, but also when making a service appointment, or recording a sales enquiry etc. The users are requested to review the settings regularly via a popup.
The settings encompass Marketing from "Us" and Third Parties ("T.P"). For each of these, communication by Email, SMS, Letter, Telephone and Social Media (Facebook etc) can be selected.
In addition, the user can select whether they only receive Service Follow Up (which is any message specific to their vehicle) or General Dealer Marketing Messages.
This information is used by the ACM and in the New Mailshot Selection System to only send appropriate messages that are required by customers.
On upgrade to Version 2.1 - all existing customer records have their GDPR flags set as per their DPA equivalents set in Navigator. Assumption is made that any that haven't opted out of communication are opted in under GDPR (Legitmate Interest). This should be reviewed in line with your GDPR policies and can be reversed on request (ie assume no customers have permission).. This may depend on your existing permissions policies
For example :-
•If a customer is set for No Follow-Up currently, they will remain set for no Service Marketing
•If a customer is set for No Marketing currently, they will be set not to be communicated via Service or General Marketing via Mailshot
How Often are Customer Preferences Reviewed?
Accessing a customer record in Service, Sales Enquiries or Parts will force review of the Contact Preferences if :-
They have never been reviewed previously (ie the boxes are ticked carried forward into GDPR)
They have not been reviewed by the dealer or by the customer (via the web portal) within 6 months.